Shoot Dice with Online Craps in the UK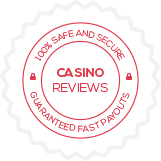 Whether you are an avid craps fan or new to the game, there's no better place to shoot dice than online. While many online casinos now offer real money craps, you don't have to settle for just any site.
Our experts have tested, reviewed, compared, and rated a vast array of casinos licensed by the UK Gambling Commission. All the recommended casinos on this page have:
Massive sign up bonuses and other rewarding promotions

Plenty of thrilling casino games available

Several secure and convenient real money banking options
Read more
The Basics of Shooting Dice Online
It's easy to play online craps. The first thing you need to know is that the game has two phases, which are known as the come out roll and the point phase.
Before the shooter rolls a pair of standard six-sided dice, you'll have the opportunity to bet on the pass or don't pass line. During the come out roll, you'll win your pass line bet if the shooter rolls a 7 or 11, but you'll lose on a 2, 3, or 12.
The game gets more interesting if the shooter rolls any other number since that number immediately becomes the point during the point phase, which we'll discuss below.
The don't pass line bets are nearly the opposite of pass line bets. In other words, you'll lose on a 7 or 11 and win on a 2 or 3 if you place a don't pass line bet. Although a 12 is deemed a tie, all the other numbers will end up establishing the point.
When you reach the point phase, you'll keep rolling the dice. In order to win your pass line bets, you'll need to roll the point again before landing a 7. In other words, you'll lose your pass line best by rolling a 7. Again, don't pass line bets are effectively the opposite since you'll lose on the point and win by shooting a 7.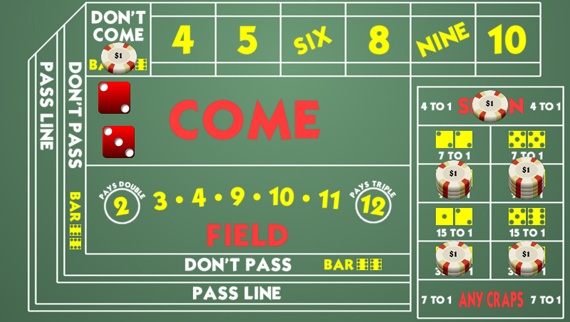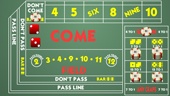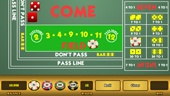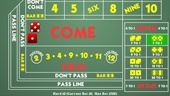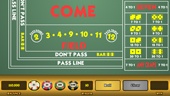 Quick Tips for Craps
Craps is far less complicated than it looks. Whether you've already tried the game at your local casino or plan on playing online for the first time, you'll want to take advantage of these six essential tips.
1

Take the time to get acquainted with the house edge and odds

2

Manage your bankroll properly so you don't burn through your cash too quickly

3

Place pass line, don't pass, come and don't come bets

4

Stay away from big 6, big 8, hard 4 and hard 10 bets

5

Go for the free odds bets since they have no house edge

6

Avoid the any 7 bet as it has a huge 16.9% house edge
£5,000 Welcome Bonus
Get started at Mansion Casino with the exclusive welcome bonus that matches your playing style. Get 100% up to £500 or 50% up to £5,000 for free when making the first deposit.
Get Started at the Best Gambling Sites
It doesn't make a difference if you are a high roller or happen to be on a strict budget. Our gambling experts have found the best online craps casino action in the UK.
Not only can you win real money shooting dice at any hour of the day or night, but you can claim a huge bonus from one of our top rated casinos. Just follow the links on this page to claim your free cash.