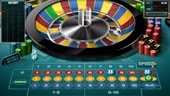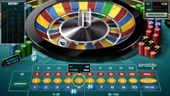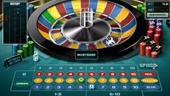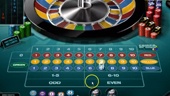 Try this game on mansion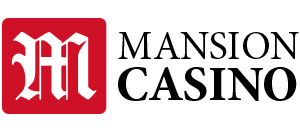 Up to

£5,000

Bonus available
Read Review
Vibrant colours and graphics

Merges roulette and bingo gameplay

Good range of possible bet sizes

Quirky soundtrack

Double the excitement in every spin
Spingo Review
We're never quite sure how to categorise Spingo since the game walks a fine line between bingo and roulette. Review sites do so in a couple of different ways but, for our part, we call it a roulette game.
After all, the game certainly looks a lot like roulette, and it'd be difficult to argue that it wasn't at the forefront of Microgaming developers' minds when they came up with Spingo. The game is certainly unique and would almost certainly never work in a land-based casino because of all the moving parts involved!
And we have more good news – the game is so easy to learn that you can pick up and play virtually immediately after taking just a quick glance at the rules. Or, for a bit more practice, try the game out in free play mode first.
Hits and Misses
Game Hits
Totally new roulette-esque mechanics

Offers all sorts of new bets to try

Enough of a bet size range to suit everyone

Great visuals and a catchy theme song

Something a bit different to what you're used to!
Game Misses
Higher house edge than other roulette variants

Takes a little while to get used to

May not have the staying power of "true" roulette
Up to

£5,000

bonus available
Register to play and claim mansion's generous welcome bonus!
Play for real money
The Theme
Rated 5/5 for theme quality
Top marks for this section of our Spingo review! With a considerable twist on the traditional look of roulette, Spingo does a fantastic job of bringing bright colours and glamour to the table in a completely new way.
The game is a million miles away from bingo games down at your local church hall, with a glitzy sophisticated feel that could have sprung straight from one of the top casinos in Las Vegas. Even the name is energetic and fun to the extent that it makes you want to shout it every time you win.
Spingo Theme
Gameplay & Excitement
It's always exciting to find a new casino game that you love, and the fact that Spingo is closely related to roulette doesn't change that in the slightest. Actually, it makes it even better as it allows the game to feel both fresh and familiar at the same time.
Getting totally used to the mechanics of the game might take a few spins but bets like 1-5/6-10 and odd/even help to bridge the gap between roulette and Spingo, giving new players something to get started with until they figure out how it all works.
Spingo is particularly exciting because, depending on your bet, there are a couple of results you need to pay attention to with every spin – the numerical value of the ball and the colour of the slot it lands in. Twice the fun!
Graphics & Sound
Rated 4.5/5 for graphics and sound
In Spingo, as you would expect, the wheel and bingo ball dispenser are at the centre of the action and dominate more than half the screen. They're beautifully rendered, with slick animations and realistic reflections that catch your eye as the wheel spins. The layout of the table itself is simply intuitive, and the History section on the left will appeal to keen Spingo trackers.
In a nice departure from the usual short piano loop and casino crowd noise, Spingo has its own theme song that has more than a touch of Daft Punk about it! That's easy enough to mute as and when it starts to grate…just make sure you do so before the catchy tune gets stuck in your head for the rest of the day.
Spingo Graphics
Mobile Experience
Rated 4/5 for mobile experience
With its bright and bold user interface Spingo already feels a bit like a mobile game so, if you can find a casino that offers it, it's definitely one that's worth checking out on your smartphone or tablet.
Older devices might struggle to keep up with the game's slick animations but, for the vast majority of our readers, this won't be an issue. The table itself is relatively uncluttered and, with a bit of care, you should be able to get used to placing bets on your touchscreen without any problems.
Spingo played on Mobile and Tablet
Summary
Some casino software developers take the view that the games everyone knows, such as roulette or baccarat, are classics for a reason and shouldn't be messed with. But one need only look as far as all of the variations of blackjack that are available to know that there's always room for innovation!
Spingo is just that: a mashup of two popular casino games, and a true innovation in the casino space. It already has a cult following and we wouldn't be surprised to see it appear in more and more casinos, maybe even making the move into land-based venues in the future. Watch this space…
Play for real at Mansion